Last summer he had a huge success in the biggest comedy festival in the world
where he was the guest, which was the Just For Laughs Festival Of Montreal.
These performances were greatly appreciated by all.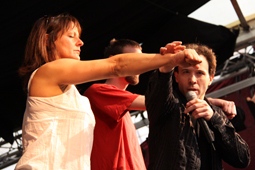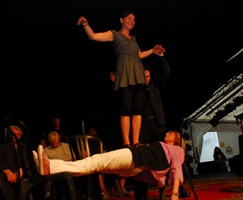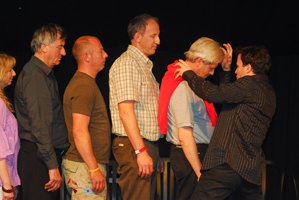 Shows
Bruno the Hypnotist invites you to his unique shows that combine hypnotism with a huge amount of humour.

You have found the best in stage hypnosis and comedy hypnosis. Bruno the hypnotist is a must for an unmatched and mesmerizing experience in hypnotism entertainment. Your parties will never be the same!

Your evening will be quite an adventure. Once on stage, your friends and colleagues will never stop to surprise you with their newly discovered talents and their suddenly revealed secrets.
At all times, on-stage participants are in a safe and respectful environment. As a certified hypnotist and a member of the
l'Union des artistes, Bruno the Hypnotist is extremely professional.

Our shows are the #1 shows recommended by most event planners.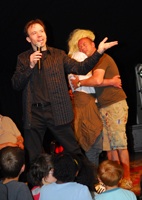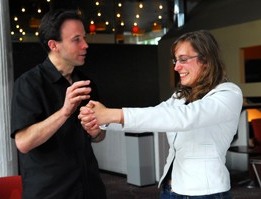 Be the next one to choose our hypnosis à-la-carte concept.
Our entertainment services are also available in custom-made packages.

Bruno the Hypnotist consistently exceeds client expectations!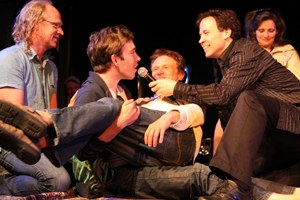 Bruno the Hypnotist also performs in French or in a bilingual scenario
or in other languages as well with the assistance of an interpreter.
Do humor and hypnotism fascinate you? Are you puzzled by this surprising combination of the power of the unknown with humor and fun? For prime quality entertainment and for sensationalism at its utmost,

contact our team at (1) 514 -567-7800
© 2008 Hypnotist Bruno Leduc - All rights reserved
Conception
Micro-Xtech.com